THE TREMBLING NIGHT - GIANFRANCO FERRONI
2002 / 31'
direction by

Elisabetta Sgarbi

subject by

enrico ghezzi

photography by

Elio Bisignani

editing by

Luciano Marenzoni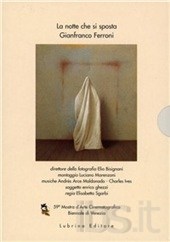 The trembling night - Gianfranco Ferroni
By Elisabetta Sgarbi
DVD + Book Available On IBS
The Trembling Night, a homage to Gianfranco Ferroni, is an empty room where other empty rooms are chasing one another. Moving spaces, reflected in a mirror, mystical cabinets in a dazzling shade, light triangles, making their way out of Ferroni's paintings, just to accomplish, in his studio, a non-stop series of vivid paintings; still shadows, strolling shadows, a moon that peeps in and out as it pleases.
"And who can say whether Ferroni is missing from these rooms? He is inhabiting that space, that fire, light, objects, or rather, he is the space himself, the objects…"
Gianfranco Ferroni was born in Livorno on February 22th 1927 and died in Bergamo on May 12th 2001. He has always been averse to shooting, and this single tale is a homage to Ferroni by Arialdo Ceribelli, his friend who looks after his work.
Presented at 59th Mostra Internazionale d'Arte Cinematografica di Venezia