A SILENT FIGHT - ANDREA MARTINELLI / EDOARDO NESIF
2011 / 30'
Un film di Elisabetta Sgarbi

con Andrea Martinelli, Edoardo Nesi
photography by

Andres Arce Maldonado, Elio Bisignani

editing by

Andres Arce Maldonado, Elisabetta Sgarbi

music by

Franco Battiato, Johannes Brahms, Enrico Fabio Cortese

audio editing:

Pino Pinaxa Pischetola

production by

Betty Wrong

with

Terna Spa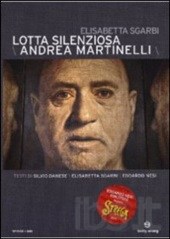 A silent fight - Andrea Martinelli / Edoardo Nesif
By Elisabetta Sgarbi
DVD + Book Available On IBS
Standing before his monumental tryptic "Testa nuda" (which will be exhibited in the Italy Pavillion at the next Art Biennale), artist Andrea Martinelli talks with writer, novelist, winner of Premio Strega 2011 for his book Storia della mia gente (Bompiani): Edoardo Nesi.
In the artist's studio, hidden away in the Chianti hills at San Polo, the discussion moves freely, touching upon all nature of topics. Nesi's curiosity encourages the artist to overcome his reserve, allowing the dialogue to move on from the more technical aspects of Martinelli's work (how a painting begins, how he works, when he works, his teachers, contemporary art, his fatigue at infinitely repeated attempts to imitate nature's infinite riches) to those equally important topics regarding the poetics of his work and his world vision (old age, women, his faith in God, truth and the mask, the passing of time and innocence).
During this meeting between Edoardo Nesi and Andrea Martinelli - who are close in their geographic provenance and their love and respect for the figurative and literary traditions, and distant but not opposed in their artistic sensibilities - a third inconvenience rears its head, a guest made from stone which inspires one to paint and the other to pose questions, energizing the scene.
Elisabetta Sgarbi - following La Stanza della Segnatura by Raffaello and La Primavera by Botticelli, Isenhaeim di Gruenewald's Polittico dell'altare, Giannfranco Ferroni, Antonio Stagnoli and many others - tells the tale of a painter with extraordinary poetic and ideological potency. Or rather, she allows it to be told, entrusting herself to the desire and love for art of one of today's most accomplished authors, who has been published by Sgarbi herself for the Bompiani publishing house since 1995.
Edoardo Nesi has published Fughe da fermo (1995), Ride con gli angeli (1996), Rebecca (1999), Figli delle stelle (2001), L'età dell'oro (2004, Premio Bruno Cavallini, Finalist Premio Strega 2005), Per sempre (2007), Stati d'anima (2010), with Gianna Nannini and Alberto Bettinetti, and Storia della mia gente (2010, shortlisted for the Premio Strega 2011). He wrote and directed the film Fughe da fermo (2001).
Andrea Martinelli
Born in Prato on 12/03/65.
Having graduated from Florence's Istituto d' Arte di Porta Romana, Martinelli won the Tito Conti Prize for which the Accademia delle Arti del Disegno awarded him the use of a celebrated workshop in Florence's Piazza Donatello for five years.
From 1992 to 1993 he worked intensively on a series of paintings entitled Senescenze which caught the attention of the art historian and critic Giovanni Testori. These works went on to be exhibited first in Florence at the Accademia delle Arti del Disegno, and later in Milan at the Compagnia del Disegno.
This marked the beginning of a series of personal and collective exhibitions in highly prestigious public and private venues, both in Italy and abroad.
Exhibitions devoted solely to his own work include that at the European Parliament in Strasbourg in 2001, the retrospective at the Frissiras Museum in Athens (2002), the exhibition at Milan's Museo della Permanente (2005) and the retrospective at the Panorama Museum of Bad Frankenhausen in Germany (2006).
He took part in the XIII Rome Quadriennale in 1999 and the 50th Venice Biennale in 2003.
His various accolades and prizes include:
1997 XXXVII Premio Suzzara.
1999 Premio acquisto Camera dei Deputati, XIII Rome Quadriennale.
2001 XXXV Premio Internazionale Le Muse, Florence.
He has been a member of the Florence Accademia delle Arti del Disegno since 2004.
He currently lives and works in Prato and Florentine Chianti.
Elisabetta Sgarbi is Editorial Director at the Bompiani publishing house. Twelve years ago she conceived the La Milanesiana Literature Music Cinema Science festival, of which she is artistic director. In 1990, together with Pier Vittorio Tondelli, Alain Elkann e Elisabetta Rasy, she founded Panta, a unique literary review published in four-monthly monographic volumes featuring interviews with both up and coming writers and Nobel Prize winners. She personally edited the publication of Ressurga da la tumba by Pietro Andrea de' Bassi (1986), Frasario essenziale (per passare inosservati in società) by Ennio Flaiano (with Vanni Scheiwiller, 1986) and Savinio's Scritti dispersi (1989).
She made her directorial debut in 1999, presenting her work at numerous European festivals, such as the Venice International Film Festival, the Locarno International Film Festival, the Turin Film Festival, the London Film Festival, Rome's Festa del Cinema and the International Film Festival at Cannes. www.elisabettasgarbi.it