DON'T ASK US FOR THE WORD – THE GREAT MOUNTAIN THEATRE OF THE SACRED MOUNT OF VARALLO
2008 / 67'
direction by

Elisabetta Sgarbi

helpdir

Eugenio Lio

photography by

Daniele Baldacci

editing by

Luciano Marenzoni (multivideo)

music by

Frank B. Right e Franco Battiato

production by

Betty Wrong, Fondazione CRT, Comune di Varallo

Luca Volpatti

online HD:

Riccardo Sgalambo (obrazstudio)

music editing:

Pino Pinaxa Pischetola

texts:

Edward Carey, Giovanni Testori, Juan de la Cruz, Vittorio Sgarbi, Umberto Eco, Sebastiano Vassalli

voice:

Toni Servillo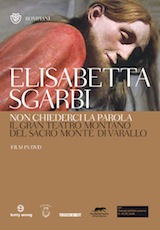 Don't ask us for the word – The Great mountain Theatre of the Sacred Mount of Varallo
By Elisabetta Sgarbi / Giovanni Reale
DVD + Book Available On IBS
It is a very human sacred story the one that the Sacred Mount of Varallo - in the masterpieces by Gaudenzio Ferrari, Tanzio from Varallo, Gherardini, Morazzone, Ceranino – delivers us, and that the cinematic gaze endeavours to grasp. We are taken to places precluded to the visitor's eyes, beyond the grids, the glasses, the boundaries which protect, and distance from the viewer, these statues/paintings/people; we are lost between them, living in their houses/chapels and meeting, one by one, all the characters of this petrified crowd.
Every one of the 44 chapels represents, with frescos (about 4000 figures) and groups of statues (around 400), scenes from the life of Jesus and Mary.
The texts of this second chapter of the Trilogy on sacred art, by Edward Carey, Giovanni Testori, Juan de la Cruz, Vittorio Sgarbi, Umberto Eco, Sebastiano Vassalli, with the voiceover by Toni Servillo, shed the light of words upon the magic of sculpted bodies, and send it back to us, dense with all the history and allegory they contain.
Presented at 61th Festival del Film di Locarno