THE HIDDEN MARRIAGE (OR THE SPRING BY SANDRO BOTTICELLI)
2007 / 28'
from a text by

Giovanni Reale

direction by

Elisabetta Sgarbi

photography by

Elio Bisignani

editing by

Luciano Marenzoni

director assistant:

Eugenio Lio

music by

Roberto Cacciapaglia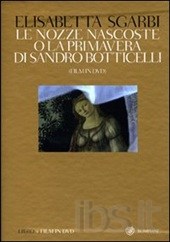 The Hidden Marriage (Or the Spring by Sandro Botticelli)
By Elisabetta Sgarbi / Giovanni Reale
DVD + Book Available On IBS
A Spring by night, crossed by a whirlwind of petals of various colours and covered by veils that, raised by the wind, unfold the mystery of this painting.
In the interpretation of Giovanni Reale, the paint represents The Marriage of Philology and Mercury, according to Maziano Capella.
The Divine Frenzy (Zefiro, according to the traditional interpretation), inspires Poetry, which embraces rhetoric, the girl who represents Spring. In the middle of the painting, Philology waits for her groom Mercury, from behind, who is turning over the clouds of winter and ignorance. In the meanwhile, Voluptas, Castitas and Pulchritudo, the Three Graces, stage the bridal rites between the soon-to-be-married.