RAFFAELLO. THE STANZA DELLA SEGNATURA
2009 / 50'
direction by

Elisabetta Sgarbi

helpdir

Eugenio Lio

photography by

Elio Bisignani

editing by

Luciano Marenzoni/Multivideo

production by

Betty Wrong

subject

Giovanni Reale

music by

Matteo Ramon Arevalos

music editing:

Music editing Pino Pinaxa Pischetola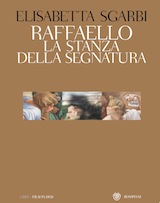 Raffaello. The Stanza della Segnatura
By Elisabetta Sgarbi / Giovanni Reale
» DVD + Book Available On IBS
For the first time, after more than forty years, an integral shot of the Stanza della Segnatura, in the Vatican, has been accorded. A ten day work, an eye pointed at Raffaello's most famous frescos, which sign the mature phase of the humanistic-Renaissance age.
The Truth is one only, one that we reach through art, philosophy and religion. Art is the way to beauty: here is the Parnassus; philosophy is the hard and winding path of reason: here is the School of Athens; religion is the sanctuary of faith: here is the Disputation.
The logic of the vision coincides here with the indulgence on details, realised through a mosaic of narrow close ups that renders the perfect geometry of Raffaello's original design. Averroes, the marvellous Arab; the construction of a cathedral that would serve as a lever in the endeavour to represent the semblance of God; the correspondence of poetic genres in the interplay of gazes between epic, lyric and tragic poets: everything is kept in the frescos, where myth and history sustain the artist's intuition reflected by the filmic retrieval. Accompanied by the music by Matteo Ramon Arevalos, we discover the texts by Giovanni Reale and Elisabetta Sgarbi, with the voiceover by Andrea Renzi.