THE TRIP - PAULO COELHO ON THE TRANS-SIBERIAN RAILWAY
2008 / 45'
direction by

Elisabetta Sgarbi

helpdir

Riccardo Sgalambro

production by

Betty Wrong / Sant Jordi Asociados Agencia Literaria S.L.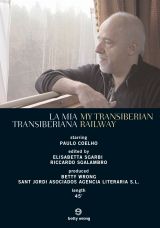 THE TRIP - PAULO COELHO ON THE TRANS-SIBERIAN RAILWAY
By Elisabetta Sgarbi / Riccardo Sgalambro
DVD Available
Paulo Coelho is the most renowned writer in the world: published in over 160 countries and translated into 56 languages, he sold more than 95 millions of copies, of which 5 millions only in Italy.
This 45-minutes film, produced by Betty Wrong and Sant Jordi Asociados Agencia Literaria S.L., depicts the trip made by a master of the contemporary literature, Paulo Coelho, on the legendary train connecting Moscow to Vladivostok: The Trans-Siberian Railway.
Passing by exotic landscapes full of charm and history, Coelho goes along a new route, twenty years after the pilgrimage to Santiago di Compostela, dedicating it to the great Russian writer Aleksandr Solzenicyn, author of "Archipelago Gulag", who, back from the American exile, arrived just in Vladivostok.
The Trans-Siberian Railway: 9289 kilometres one must experience in the depths of his heart, amongst historical fascinations and symbols and atmospheres evoked by an East still largely mysterious and not-said. During his trip, Coelho meets his new readers, plunges himself into the infinite landscape of a land that seems to have non boundaries at all, and that just for this reason encourages the meditation, the withdrawal in oneself.
The Russian people he bumps into, offer him their smile of strong souls, that don't yield to the rigours and to the sufferance of the social regimes. A fisherman tell him that "if he wants to understand his mother, he must go back into her womb, like a pearl in the oyster." The aim of his trip is that of regaining the powerful image of a more true reality, ridden from ideological layers, and that of "going back into himself", thus managing, after several years of spiritual quest, "to watch the world with baby's eyes, without naivety yet with his innocence."
The river flows like precious water, Coelho's English language merges with the local dialects, and the fragments of the "Alchemist" and the "Manual of the Warrior of the Light" suddenly appears in order to remind us that this trip is part of a ten-year creative process.
This film will be distributed in Italy, Portugal, Latin America and United States.