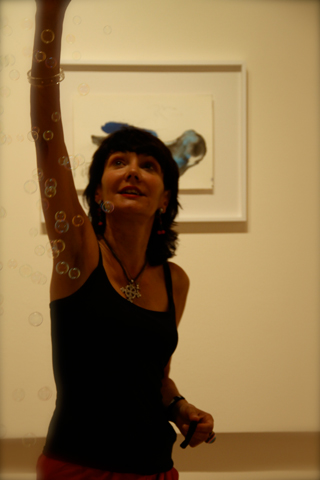 "I'm dead sure you've never seen Franco Battiato like that: fragmented, split up and at the same time reassembled in Frammenti di una biografia per versi e voce. Curiously and quickly enough, Elisabetta Sgarbi breaks away with conventional videoclip as easy as winking, no less..."
Domenico Liggeri, Duel 79, April 2000
"Dear Gentlemen, dear audience, just three big names that will have you on the edge of your seat: Cinzia Bomoll, Anna de Manincor, Elisabetta Sgarbi. Give them a budget and they'll change things for you."
Domenico Liggeri, Duel 80, May 2000
"Elisabetta Sgarbi has two loves in her life. The first is books: Elisabetta Sgarbi is known as an acclaimed editor at the Bompiani publishing house. The other is cinema. It will come as somewhat of a surprise to many that she has made several short films. The latest is called This is my Chocky message, starring writer Hanif Kureishi and his three year old son, Chocky. It will be featured in the programme at Cortinametraggio from 25 to 29 August."
tamtamcinema.it - September 2000
"London is the setting of the short filmed by Elisabetta Sgarbi, dazzlingly reminiscent of Godard's."
La Stampa, 27 August 2000
"An (a)chromatic taste very reminiscent of the early works by Corbijn, while the fleeting shadow of the hand standing out in daylight, is strongly evocative of the Expressionist masterpiece The Cabinet of Dr. Caligari by the German Robert Wiene."
Domenico Liggeri, Duel 86, February 2001 (see also Duel 85, December 2000/ January 2001)
"In professional life, Elisabetta Sgarbi is engaged in literature, according to her role as editor-in-chief for Bompiani. However, within the recesses of her passions, she loves also dedicating to cinema. In a way, a kind of cinema linked and fitted in with literature."
Marina Cappa, Il Giorno
"The visual result of Belle di notte is not merely remarkable. This occurs every time that, while contemplating art, the eye sets free from the physical direct dependence and attempts a superimposition with the movie camera lens, the painting cracks, takes on a different shape, and transforms itself even in the light and in the colour potentialities."
Silvio Danese, Il Giorno
"To reverse the rituality of art fruition. To wrap up the object, to penetrate it, splitting it up, so that it comes to life again, with a new look, "pure". Each time every one is stunned by Elisabetta Sgarbi."
Massimo Rota, Duel